WARNING: Do not send Litecoin, Bitcoin Cash, or Tether to your BitLeague Bitcoin Wallet address! Any unsupported coins sent here will be lost.
You can send your bitcoins from any exchange or wallet to BitLeague Bitcoin Wallet. There are a number of exchanges in the crypto ecosystem. We take Coinbase, which is a popular exchange in the U.S, as an example.
First, Sign in your BitLeague account. Click the 'Receive' button under your Bitcoin Wallet, you will be shown the wallet address to which you should deposit your bitcoin to. You can copy the address to your clipboard, or you can save the QR code and scan it as the destination address.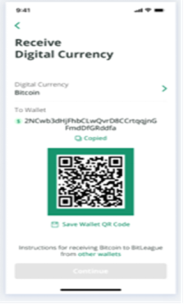 Then, Sending Crypto to BitLeague from a Coinbase Account
To send crypto from your Coinbase account to your BitLeague account, sign in to Coinbase and navigate to the 'accounts' tab on the navigation bar. Find the wallet you want to use for the transfer. Initiate the transfer process by clicking the 'send' button. You will be prompted for the destination address. Here is where you will use the BitLeague wallet address, found above. You can copy and paste your BitLeague wallet address in this field.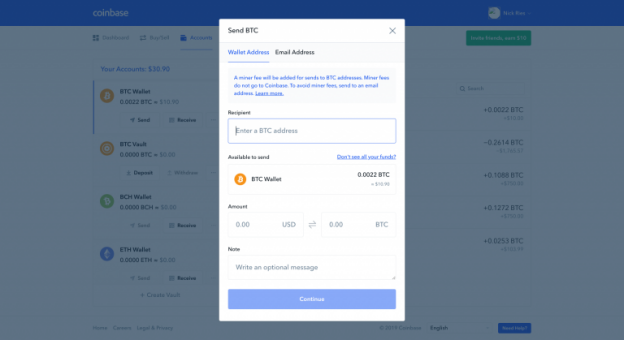 Next, input the amount of bitcoins to be sent, calculated in either your local currency or crypto of choice. Please note that Coinbase charges a network fee ~1% of the transaction to transfer out crypto. Review your inputs and confirm the transfer amount and destination wallet address are correct. Once you are satisfied, complete the transfer.
Once the transaction is sent, Coinbase will begin processing the transfer. This can take anywhere from a few minutes to an hour. After Coinbase processes the transfer, it will hit the blockchain. Your deposited Bitcoins can be accessed following a two-step confirmation process on the Bitcoin network (usually within 20 minutes after you or your wallet provider posts the transaction on to the Bitcoin network).